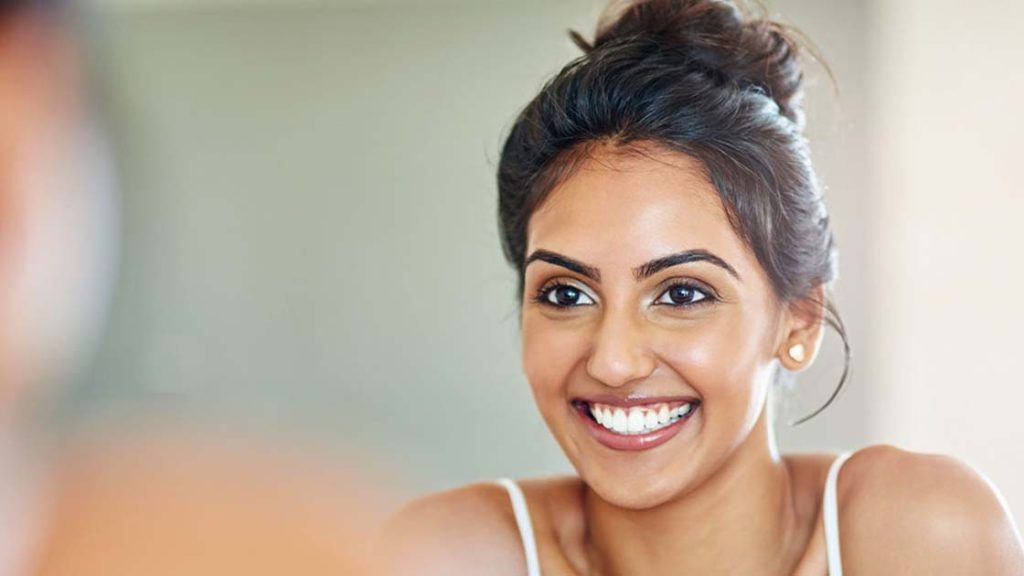 Metropolitan Dental Care provides comprehensive cosmetic dental services and treatments at a modern office near Bryant Park and Grand Central Station. To learn more or book an appointment, call 212-867-4223 or send us a message.
What Is Cosmetic Dentistry?

Cosmetic dentistry is a sub-specialty that focuses on improving the aesthetic or cosmetic appearance of the mouth. Cosmetic dental treatments provided by Metropolitan Dental Care help you to put your most beautiful smile forward, by straightening, resizing, reshaping, brightening, and restoring teeth.   
Some types of cosmetic dentistry also improve the function and health of your teeth, smile, and jaw. Invisalign for example, not only straightens teeth but can also correct problems with a bite, such as an underbite, overbite, crossbite, or open bite.  Dental crowns may also provide a cosmetic improvement while protecting the natural teeth beneath them
Benefits of Cosmetic Dental Treatments in NYC

The overarching goal of cosmetic dental work is to improve the appearance of your teeth and smile. However, it's well documented that cosmetic dental treatments also offer mental health benefits, boosting self-esteem and self-confidence. 
Cosmetic dental treatments provided by the specialists at Metropolitan Dental Care can correct virtually any problem with the teeth, ranging from staining to missing teeth. Specific benefits include:
Correcting gapped teeth
Aligning crooked teeth
Straightening slanted teeth
Brightening dull or yellowed teeth
Covering stained teeth
Resizing small teeth
Fixing chips in teeth
Repairing cracked teeth
Removing stains
Spacing crowded teeth
Cosmetic Dental Treatments at Metropolitan Dental Care
All three of our dentists at Metropolitan Dental Care are highly trained, and experienced, and have proven track records of success in helping patients transform their lives by transforming their smiles. We offer a full suite of cosmetic dental procedures including:
Frequently Asked Questions About Cosmetic Dentistry
Can I Get Multiple Cosmetic Dental Treatments?
Absolutely. In fact, you can transform your entire smile (smile makeover) with a combination of different cosmetic treatments.
Will Cosmetic Dental Work Be Covered by Insurance?
Unfortunately, the only cosmetic treatments that may be covered by insurance are Invisalign or Clear Aligners. Most dental insurance plans that offer orthodontic coverage will allow for treatment with Braces, Invisalign, or Clear Aligners. Check with your carrier for your specific coverages. Metropolitan Dental Care accepts third-party financing such as Lending Club and CareCredit so that you may pay for your cosmetic dental care over time.
How Long Will Invisalign Take to Work?
The length of time you'll need to wear Invisalign or Clear Aligners will depend on the complexity of the conditions that need to be treated. Minor alignment issues affecting only a few teeth may be corrected in as few as six months. Other, more severe issues may take a year or longer to fully correct.
Are Porcelain Veneers Permanent?
Yes. Once you get veneers, you will need to keep them forever. You may need to replace the veneers occasionally, but they are a permanent cosmetic treatment.
How Long Does Teeth Whitening Last?
Results vary depending on lifestyle choices. If you tend to eat and drink stain-causing beverages, you may find your results don't last as long. However, by using straws, and avoiding foods and beverages that are likely to restrain your teeth, your results may last a year or longer.
Does it Hurt to Get Dental Veneers?
Dental procedures should never be painful. Local anesthetic should keep you from feeling acute pain. However, you may find keeping your mouth open for an extended period to be uncomfortable.
Is Microabrasion Painful?
No. Microabrasion shouldn't feel much different than a routine teeth cleaning. Some patients may find holding their mouth open for a time to be uncomfortable. Your soft tissues (gums and lips) will be protected from the stain-removal agents used.
Can Cosmetic Bonding Fix a Chipped Tooth?
Yes. Larger chips where a portion of the tooth has broken off may be better suited for restoration with a dental crown. But cosmetic bonding is an excellent option for fixing small chips in teeth.
Book a Cosmetic Dental Treatment in Midtown Manhattan
To learn more about cosmetic dental treatments at Metropolitan Dental Care, book a consultation today. Call 212-867-4223 or send us a message.